Avenida Obregon
Nogales Border Dentistry and Pharmacy Districts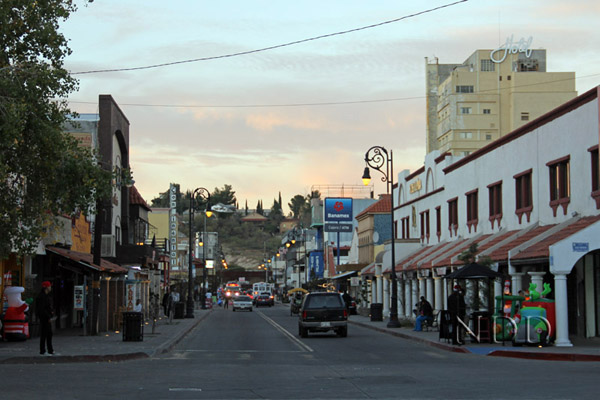 Avenida Obregon is the principal north-south street in Nogales. Starting at the border fence, it continues through Nogales, through the city and industrial parks, and eventually southward as Mexico highway 15.
In the downtown border tourism district of Nogales, Avenida Obregon is home to a variety of dentist offices, restaurants, curio shops, barber shops, nail and beauty salons, pharmacies and other interesting places to explore.
The northern corner of the Avenida Obregon Nogales dental tourism district is marked by the tallest building in Ambos Nogales (meaning "both" Nogaleses) – the Hotel Fray Marcos de Niza. The Fray Marcos also has a restaurant and bar, and sets a grill, tables and chairs on the sidewalk in the evening to offer freshly grilled Mexican food. It also has a great Sunday buffet.
The Obregon tourism district basically covers the first few blocks of Avenida Obregon going south from Calle Campillo, but there are many more dentist offices and businesses that line Obregon for miles. When looking at the addresses of the dentist offices, those with the lower numbers are closer to the border.
There is certainly much more to see as you walk south, like plazas, the Nogales city hall, and clothing and shoe stores, just be aware that you may want to take a taxi to go to dental offices with addresses in the 500's and higher, unless you are up for a long walk.