Calle Campillo
Nogales Border Dentistry and Pharmacy Districts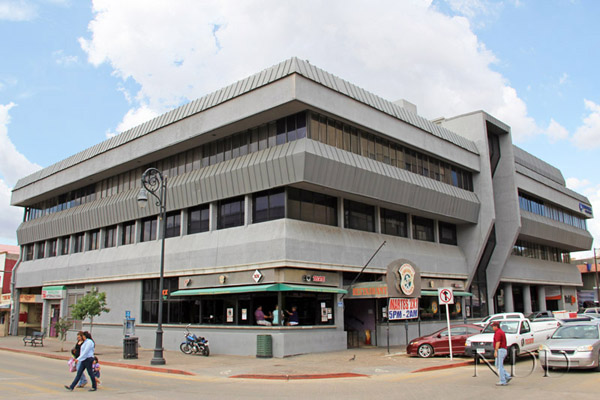 Calle Campillo is the first east-west street that you will see in Nogales, Mexico after crossing the border at the DeConcini pedestrian border crossing.
Calle (pronounced cai – yay, the Spanish word for "street") Campillo is on the south end of the Plaza Pesquiera open-air commercial center, and connects with Avenida Obregon, another main shopping and dental tourism area.
As you walk west on Campillo two blocks from Plaza Pesquiera to Avenida Obregon, you will find pharmacies and curio shops. The first north-south street you will pass is Avenida Juarez. If you find yourself feeling thirsty when you come to the intersection of Campillo and Juarez, just take a right turn and stop for a cold beverage at the Regis, a traditional Nogales bar that has been open since 1928.
Continuing along Campillo, just before you reach Obregon, is the "Pasaje Morelos" alley located just to the east of the Fray Marcos Hotel, on the southeast corner of Campillo and Obregon (you can't miss the Fray Marcos, it is the tallest building in Ambos Nogales). In addition to artisans who set up tables to sell their goods there, Pasaje Morelos also has curio shops, a restaurant, motel and a local dentist's office.
Across the street from the Fray you will see the main building for Nogales professional doctors and dentists offices on Campillo is known as "Campillo 86," a modern three-story office building located on the corner of Campillo and Avenida Obregon.
For purposes of organization, the Calle Campillo Nogales Dentistry district also comprises dental offices located on Avenida Obregon north of Campillo, which is the block between Campillo and the border fence. Dental offices located south of Campillo on Obregon are included in the "Avenida Obregon" Dental tourism district.